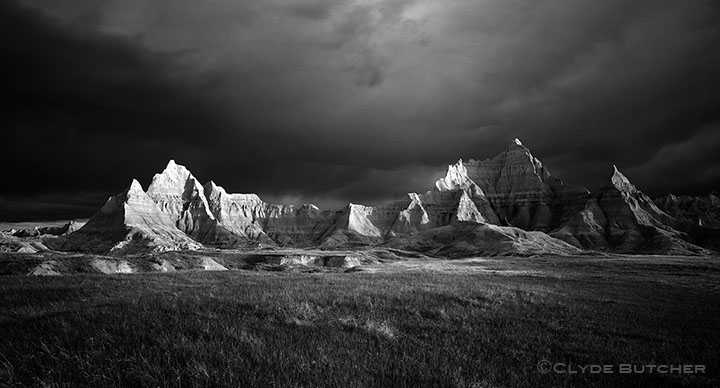 Exhibition Name:
America The Beautiful (small)
Description:
In this photographic exhibit, whose content stretches from the Redwood forests of California to the Everglade swamps of Florida, Clyde has captured the essence of our natural spaces and treasured landscapes. His images document the changing environment, capturing what is there today and encouraging us to enjoy the beauty of wilderness. He raises awareness of our remote places and the species who live there, allowing us a serene adventure through his lens.Clyde's images in this exhibition present the diverse places of wilderness and respite found throughout all of America and allow us to appreciate the beauty across our land.

Created especially with the small museum in mind, America the Beautiful consists of 43 framed and matted black and white images ranging in size from 4' x 8' to 13" x 18". It is supplemented with interpretive labels, interpretive panels, and printer-ready vinyl files.
Primarily Consists of:
Photographic Images
Cost:
$3,500 plus shipping and insurance
Size:
240-400 linear feet
Venue duration:
12 week booking
Availability:
various dates 2021-2023, check availability at clydebutchertravelingexhibits.com
Special Requirements:
The Exhibition requires minimum security which includes being placed in a limited access gallery space. The exhibition area must be locked and secured during closing hours. Alarms and/or guards during closed hours are preferred but not required.
Environmental requirements include no direct sunlight and functioning fire-protection systems in the exhibition, staging, and storage spaces. Constant temperature and relative humidity conditions should be maintained in accordance with professional museum standards.
This exhibit requires approximately 240-400 linear feet.
Previous Venues:
Yellowstone Art Museum, Billings, Montana
Midwest Museum of American Art, Elkhart, Indiana Gadsden Arts Center & Museum, Quincy, Florida
Address:
237 Warfield Ave.
Venice, FL, Florida, 34285
United States