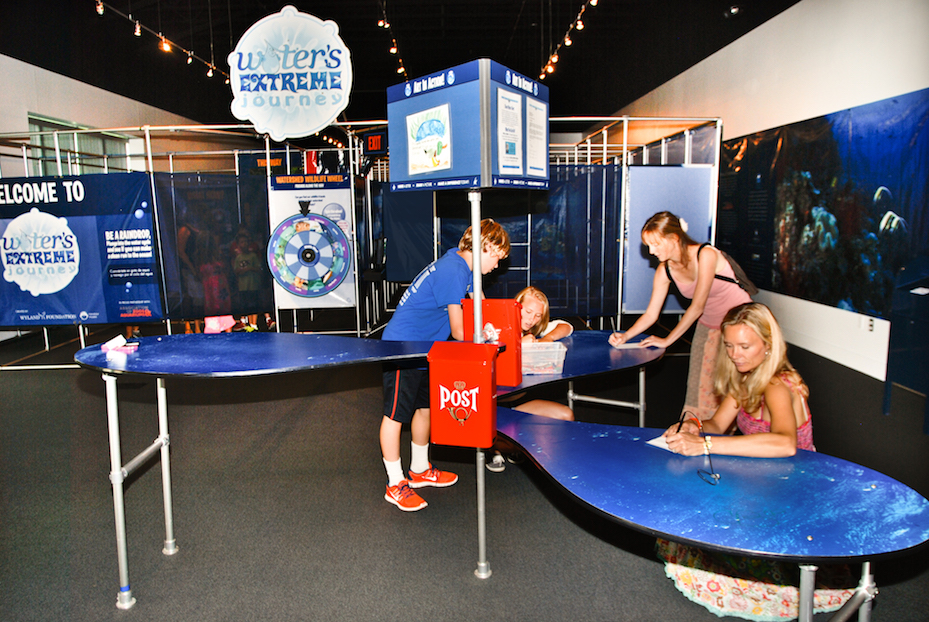 Exhibition Name:
Water's Extreme Journey
Description:
Become a Raindrop, Change Your World!

Transform into a drop of water and travel through 5 watersheds on a journey to a healthy ocean. Encounter human impacts, hidden species, themed interactives and storm drains which cycle you through the water system toward your goal. Activities promote stewardship, conservation and reducing non-point source pollution in our daily lives.
Water's Extreme Journey is a front line effort to empower millions of people with the knowledge to create a positive, immediate impact through action. Customize watershed panels to local waterways for local messaging and sponsors. Headers translated into Spanish.
Category:
Environment & Ecology
Primarily Consists of:
Hands-On Activities
Cost:
$30,000/3 mos - COVID flexible
Size:
1000 - 3500 Square Feet
Availability:
ongoing - call for latest
Special Requirements:
outdoor durable - we have two copies of this exhibit - one for indoors and one for outdoors
Previous Venues:
OMSI, Portland, OR
Lawrence Hall of Science, Berkeley, CA
Bishop Museum of Science, Bradenton, FL
Delaware Museum of Natural History, Wilmington, DE
Cranbrook Institute of Science, Bloomfield Hills, MI
Ty Warner Sea Life Center, Santa Barbara, CA
Saskatchewan Science Centre, Regina, SK
New York Aquarium, New York, NY
Sloan Longway Museum, Flint, MI
Sci-Tech, Frisco, TX
Sciworks, Winston-Salem, NC
Turtle Bay Discovery Museum, Redding, CA
High Desert Museum, Bend, OR
Assiniboine Zoo, Winnipeg, MB
The Health Museum, Houston, TX
San Francisco Zoo, CA
Hands On! Museum, Johnson City, TN
Kauai Children's Discovery Museum, Kalaheo, HI
Wonders of Wildlife, Springfield, MO
Harbor History Museum, Gig Harbor, WA
...and more!
Address:
912 NW 63rd St
Seattle, WA, 98107-2214
USA