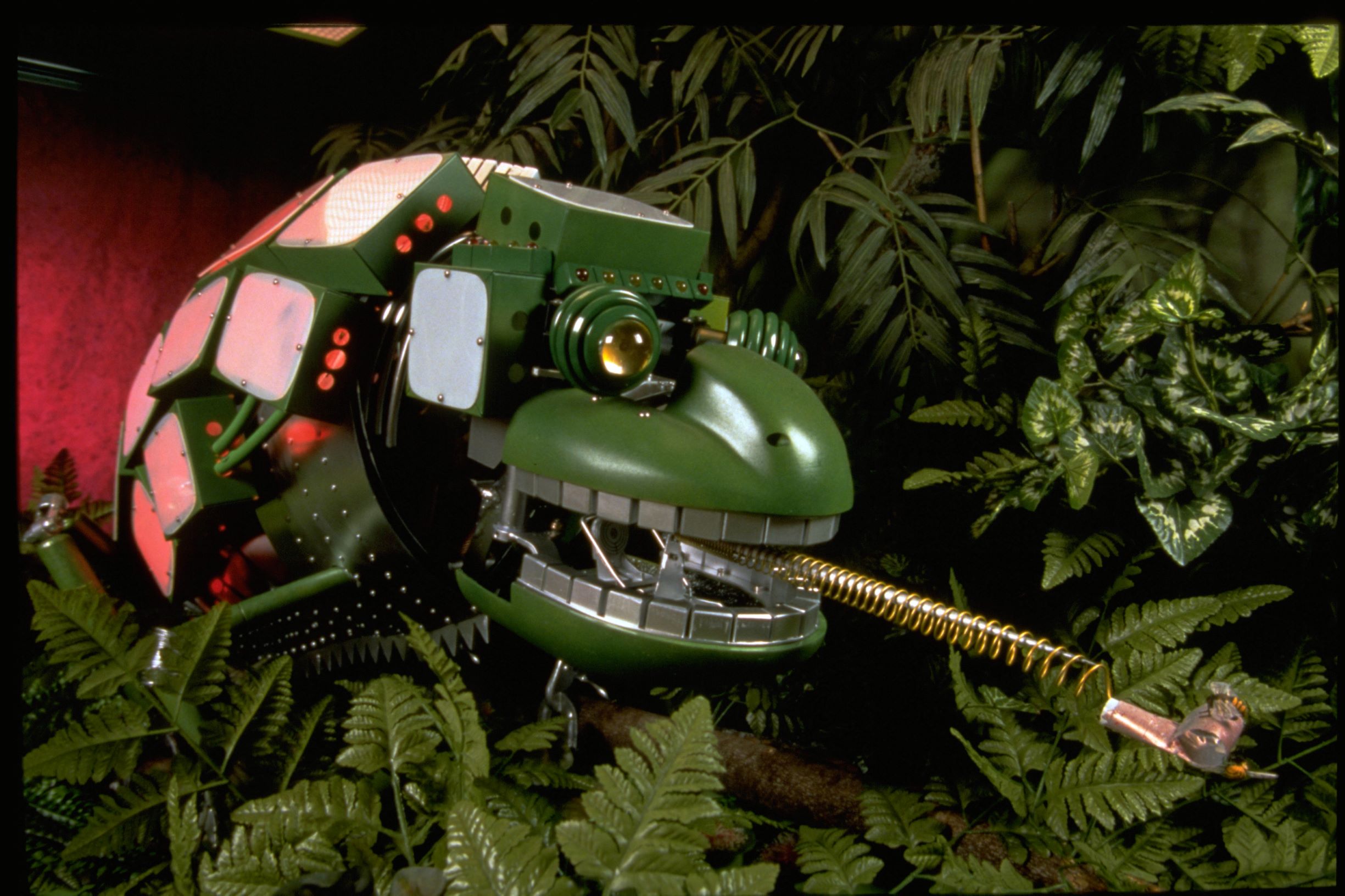 Exhibition Name:
Robot Zoo, The
Description:
Based on the book, The Robot Zoo, cutaways expose the animals' insides as a host of easily recognizable machine parts and gadgets, such as shock absorbers and pumps, demonstrate what makes animals work – muscles become pistons, intestines become filtering pipes and brains become computers. By comparing anatomy, environments, and size of the creatures to their mechanical counterparts, discover just how animals work. Three larger-than-life-size animated robot animals (chameleon, platypus, and housefly) and eight hands-on activities illustrate real-life characteristics, such as how a chameleon changes colors and a fly walks on the ceiling.
INTERACTIVES
Body Shop: Learn different mechanical devices that make up the Robot Zoo animals.
Mr. Platypus: Attach different animals' arms, legs, and noses to the platypus body to create your own unusual character.
Eye to Eye: See how a fly sees the world through specialized lenses.
Swat a Fly: Test your reaction time (about one-twelfth as fast as a house fly) to swat randomly flashing flies.
Sticky Feet: See how it feels to climb a wall like a fly using Velcro hand paddles.
Keep an Eye on You: See how the chameleon views the world- through eyes that work independently. Move the robot's eyes with a joystick and two monitors show the separate images the eyes see.
Tongue Gun: Fire a long tongue at insect targets to demonstrate how the reptile catches food.
Hide and Seek: Wear a coat that matches a wall in the background to appear and disappear on a monitor.
Category:
Science & Technology
Primarily Consists of:
Hands-On Activities
Availability:
Tour ongoing
Special Requirements:
Minimum ceiling height of 10' ceiling, climate control, standard electrical supply
Previous Venues:
Delaware Museum of Natural History
Port Discovery
San Bernadino County Museum
Science Museum of Western Virginia
The Children's Museum of Richmond
The Sloan Museum
American Museum of Sci & Energy
Miami Museum of Science
Lindsay Wildlife Museum
Pittsburgh Children's Museum
Mississippi Museum of Natural Science (Booked twice)
San Antonio Children's Museum
Saskatchewan Science Centre
Natural Science Center of Greensboro
Virginia Living Museum
Rocky Mount Children's Museum
The Science Zone
Grey Roots Museum & Archives
Explorium
South Florida Science Museum
The Wildlife Experience
Sci-Port Discovery Center
Santa Barbara Museum of Natural History
Port Huron Museum
Discovery Center at Murfree Spring
Montshire Museum
Boonshoft Museum of Discovery
Natural History Museum & Visitor Center
Gray Fossil Site
Discovery Centre
Planetario Alfa
The Children's Museum of the Upstate
Kalamazoo Valley Museum
Austin Museum of Science & Nature
Delaware Museum of Natural History
Mesker Park Zoo
North Carolina Arboretum
Portland Science Museum
Virginia Air & Space Museum
Petroleum Museum
Rolling Hills Zoo
Cade Mueseum for Creativity and Invention
Strategic Air & Space Museum
Swaner Preserve & Ecocenter
Houston Museum of Natural Sciences Sugar Land
Contact:
Christi Klingelhefer
Address:
7979 Broadway, Suite 107
San Antonio, TX, 78209
USA